You must be logged in to view this course.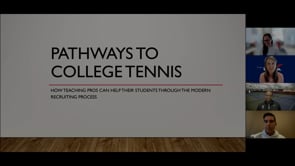 Presenter: Erica Jasper, Traci Green, Todd Wojokowski
The aspirational goal of every American junior should be to play tennis in college. Armed with the resources on recruiting and opportunities at every level of college tennis, USPTA pros will be able to prepare and guide their student/athletes successfully along the pathway to fulfilling college tennis careers.
Credits: USPTA members will receive 1 credits for completing the course.