You must be logged in to view this course.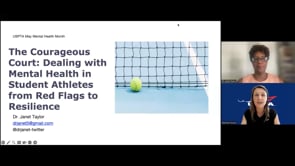 Presenter: Dr. Janet Taylor
Join Dr. Janet as she discusses Mental Health and Mental Wellness in student athletes. This webinar will help coaches
be aware of red flags, positive and negative coping skills as a response to stress in student-athletes, and the role of psychological resilience in the coach/athlete relationship.
Credits: USPTA members will receive 1 credits for completing the course.