You must be logged in to view this course.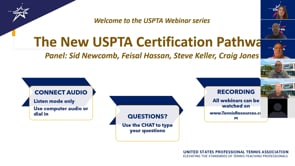 Presenter: Feisal Hassan, Sid Newcomb, Craig Jones, and Steve Keller
This webinar will be a panel of USPTA and USTA leaders discussing the 'why and how' we are embarking on this new pathway in 2021.

Course Instructions
1. You must be logged in to receive education credits.
2. Each course is eligible for credits one time. If you're not sure which courses you've already received credit for, click here to access your Report Card.
3. To begin, click on Module 1 below.