You must be logged in to view this course.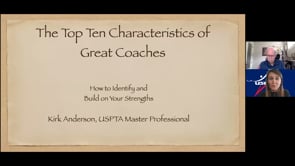 Presenter: Kirk Anderson
Surveys conducted with thousands of athletes and students reveal the characteristics of the most accomplished coaches and teachers. This seminar will explain and examine the top ten characteristics. We will do one exercise to help you identify the attributes that are your strengths so you can emphasize them for more effective, memorable, and inspirational coaching.
Credits: USPTA members will receive 1 credits for completing the course.