You must be logged in to view this course.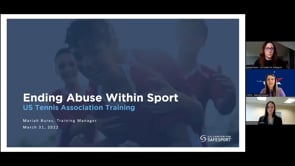 Presenter: Mariah Bures USCSS, Lauren Tracy USTA
Learn about the U.S. Center for SafeSport mission, vision, role, and scope and the important role we all play in helping end the abuse in sport.  You'll leave this presentation with a better understanding of the Center and of free or low-cost resources that can help you ally with the USCSS to end abuse in sport.

Course Instructions
1. You must be logged in to receive education credits.
2. Each course is eligible for credits one time. If you're not sure which courses you've already received credit for, click here to access your Report Card.
3. To begin, click on Module 1 below.