You must be logged in to view this course.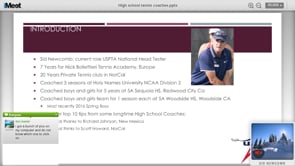 Presenter: Sid Newcomb
This webinar is the sharing of a compilation of tips and ideas from many USPTA High School Coaches along with some of Coach Sid's personal experiences. The potential a high school coach has to positively impact the lives of many youngsters can far outweigh the actual monetary compensation of a coaching stipend, especially in most tennis coaching positions. Learn how taking some simple steps can elevate your current program to new heights and add some value added to both your players and to your own experience.
Credits: USPTA members will receive 1 credits for completing the course.