You must be logged in to view this course.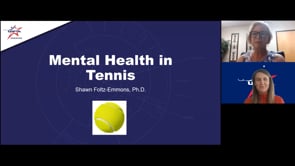 Presenter: Dr. Shawn Foltz-Emmons
In this webinar, Dr. Shawn Foltz-Emmons will address the signs and symptoms of possible mental health issues, strategies to assist in managing symptoms and other resources for help. In addition, Dr. Foltz-Emmons will discuss how mental health strength and mental health conditions can intersect with tennis.
Credits: USPTA members will receive 1 credits for completing the course.