You must be logged in to view this course.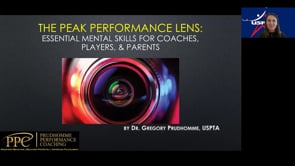 Presenter: Dr. Gregory Prudhomme
By attending this presentation, participants will learn how to coach, parent, and compete in a healthy way that not only promotes sustainable Peak Performance under pressure, but it does so in a way that also fosters sportsmanship, character, and personal development. Healthy and effective coaching, parenting, and competing should be viewed through a 4-part Peak Performance Lens that includes keeping a healthy perspective (which is the overarching lens), properly judging success, having a healthy view of competition, and possessing a growth mindset. The Peak Performance Lens is not only the lens through which competitive sport should be perceived, but it is also the lens through which life should be viewed.

Course Instructions
1. You must be logged in to receive education credits.
2. Each course is eligible for credits one time. If you're not sure which courses you've already received credit for, click here to access your Report Card.
3. To begin, click on Module 1 below.